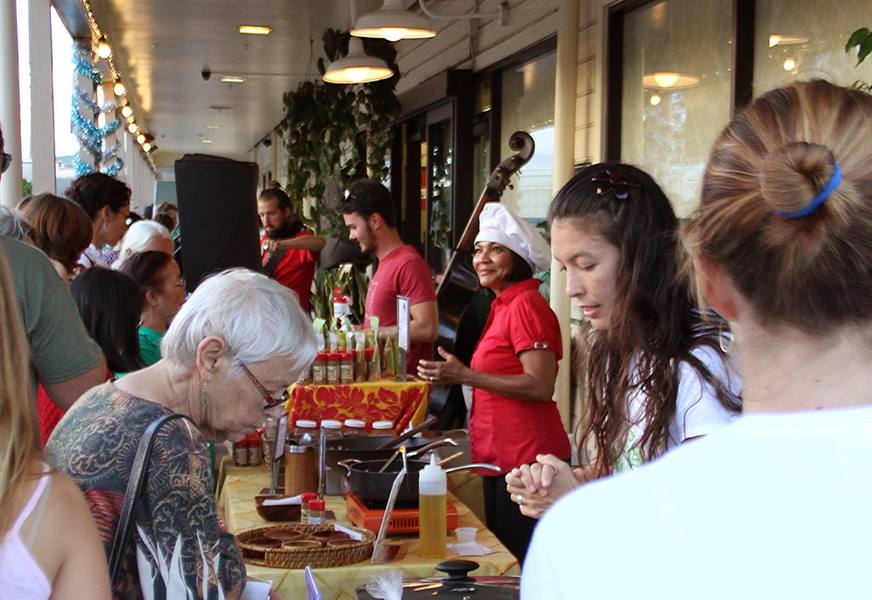 Night Markets at Down to Earth 
Join our monthly night markets at our Kailua and Honolulu store locations!
In December 2013, Down to Earth launched its first in a series of monthly night markets at the Kailua store, with a dozen vendors, free cooking class and live entertainment. 
The success of the monthly Down to Earth Kailua Night Market led us to expand it to our Honolulu store location. The Night Markets celebrate local companies – we usually have about a dozen food-oriented vendors sampling and selling their products. There's also live entertainment and an in-store sale where customers can take advantage of 35% off ten great best-selling items.
"It's a party!" says Mama T Gonsalves, Down to Earth Community Coordinator.  "Everyone loves this event, especially the live music. The sale tops it off for a great experience."
The concept of "farm to table" has become one of the strongest movements towards improving our food systems and decreasing reliance on industrialized agriculture. The message is simple and couldn't be clearer as consumers and producers alike are seeing the benefits – buying locally grown food supports local farmers, environmental sustainability, our local economy, as well as our health and the health of our communities. However, supporting local food doesn't just stop at the farms, it includes small businesses that manufacture and offer locally grown and locally produced products.
Supporting our local vendors is equally important as it helps enrich our island communities in a web of economic and social relationships, and contributes to local causes. 
Down to Earth celebrates our continued support for local vendors with our monthly Night Markets in Kailua and Honolulu.
Kailua Night Markets are held from 5:00 p.m to 7:30 p.m. every fourth Tuesday of the month at 201 Hamukua Drive. Customers can come early and attend the popular free cooking class by local chef, Mama T. 
Honolulu Night Markets are held every third Tuesday of the month at 2525 S. King Street. 
We support our local community by giving our customers this unique experience. Local vendors participating in the market include well-known names, such as:
Life Foods – a Maui-based company making nutrient-packed foods from organic super-food ingredients. Down to Earth's partnership with Life Foods has been instrumental in propelling their success on Oahu. Their line of vegan, non-GMO, soy-free and gluten-free products includes:  patties, condiments, dressings and sauces, sauerkraut and kimchi, tempeh and gomasio. Their ingredients are grown and sourced in Hawaii.
Kaiulani Spices – Kaiulani is also the guest chef at our Night Market free cooking class each 4th Tuesday with Community Outreach Team Leader, Mama T!
Manoa Chocolate – is handmade in Kailua town where they welcome visitors to come and tour the factory.
Flavor of Ayala – based in Ewa, the Ayala family has created a blend of Central American and Hawaiian flavors, creating a deliciously fresh and unique, all-natural ono salsa.
Puna Noni – this small, family-owned and operated business in Kailua makes 100% pure Hawaiian noni health products.
Daniel Anthony of Mana Ai – pounding poi and selling paiai.
Ono Pops – produces delicious, refreshing gourmet treats that are handmade in Hawaii using local and organic resources.
Kombucha Pep Tea – Marie Tan has been making and selling Pep Tea locally for many years.
Wai Lana – all-natural supplements, body care products, delicious healthy snacks, as well as natural health, fitness, and beauty products.