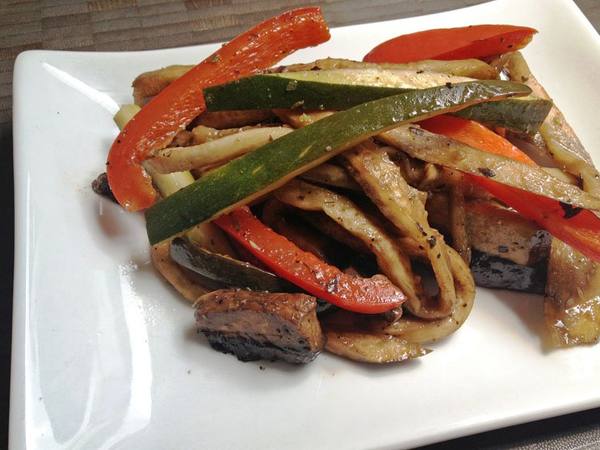 Marinated Roasted Vegetables
Based on a popular Italian antipasto, this dish uses a flavorful balsamic marinade and a quick roast in the oven. This versatile dish can be used as an appetizer with crackers, bread, hummus and cheese or in sandwiches, soups, pasta, or salads.
Updated: Tue, 04/03/2018 - 10:13pm
Ingredients
Marinade
½ cup extra virgin olive oil
¼ cup balsamic vinegar
¼ cup lemon juice
2-3 Tablespoons honey or agave
2 Tablespoons Italian seasoning
Salt and pepper, to taste
Vegetables
2-3 zucchini, cut into ½" slices lengthwise
2-3 summer squashes or eggplants, cut into ½" slices lengthwise
½ pound mushrooms, cut into ½" slices lengthwise
3-4 bell peppers, cut into ½" slices lengthwise
Instructions
Preheat oven to 400°. Line 2 baking sheets with parchment paper.
Mix together all Marinade ingredients together in a large deep baking dish.
Place all vegetables inside marinade and toss to coat. Let sit for 5-10 minutes.
Transfer vegetables to prepared baking sheet. Do not discard marinade. Roast for 15 minutes.
Remove from oven and let cool to room temperature. Transfer back into marinade and toss again. Cover with foil and refrigerate for at least 2-3 hours or until vegetables are chilled. Vegetables are ready to serve or can be refrigerated for up to 1 week. Enjoy!