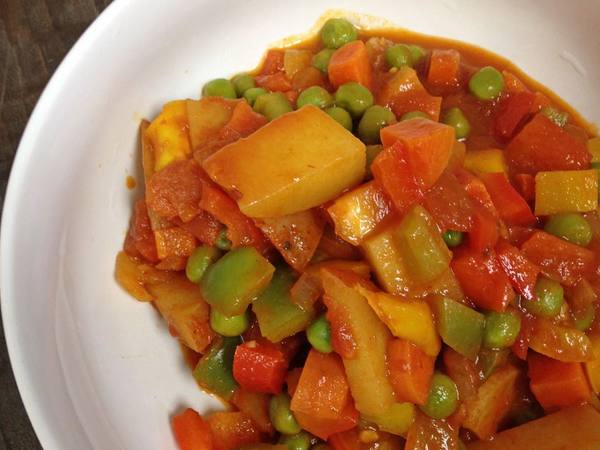 Hearty Guisantes Stew
Hearty Guisantes Recipe from Down to Earth Organic and Natural
Updated: Mon, 05/13/2019 - 9:00pm
Ingredients
2 Tablespoons safflower oil
2 cloves garlic, minced
1 small onion, diced
1 ½ cup vegetable broth or water
1 (6 oz.) can tomato paste
1 teaspoon apple cider vinegar
1 bay leaf
1 cup diced tomato
1 cup chopped carrot
1 cup diced potato
1 Tablespoon shoyu
1 green bell pepper, chopped
1 red bell pepper, chopped
1 yellow bell pepper chopped
1 ½ cups frozen peas
Instructions
In a large skillet, heat oil over medium heat. Sauté garlic and onions until onions are lightly browned and garlic is fragrant.
Add vegetable broth, tomato paste, vinegar, bay leaf, tomato, carrot, potato, and shoyu. Stir to dissolve tomato paste. Cover and reduce heat. Simmer for about 20 minutes until sauce thickens, stirring occasionally to prevent burning.
Add peas and bell peppers. Cover and cook for another 5 minutes.
Discard bay leaf before serving. Enjoy!