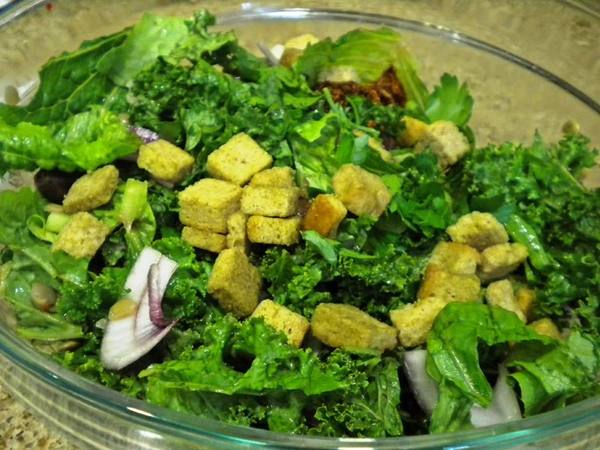 Kale and Lentil Coin Salad
Greens are a popular New Year's dish around the world as they resemble money. Lentils are eaten in Italy for New Year's as a symbol of good luck and prosperity because they resemble tiny coins.
Updated: Tue, 05/15/2018 - 7:29am
Ingredients
Lentils
½ pound green lentils
1 bunch green kale, de-stemmed and chopped
Dressing
¼ cup extra virgin olive oil or grapeseed oil
2 Tablespoons chopped fresh parsley or basil
Juice of 1 lemon
1-2 teaspoons Dijon mustard
1-2 garlic cloves, minced
1 teaspoon dried thyme
1 Tablespoon red wine vinegar
Pinch crushed red pepper flakes
¼ cup water
Salt and pepper
Salad
1 large head romaine lettuce, chopped
½ red onion, sliced
1 cucumber, peeled, deseeded and diced
½ cup diced green bell pepper
1 cup olives
6-8 sun-dried tomatoes
Fresh parsley leaves, chopped
Italian style croutons
Instructions
Bring a large pot of salted water to boil over high heat. Add lentils and cook until tender, stirring occasionally - about 18-20 minutes. Drain in a colander. Add chopped kale on top of cooked lentils to steam.
Add all Dressing ingredients in a bowl or blender. Whisk or blend until smooth.
Combine Salad ingredients in a large bowl. Toss to combine.
Transfer lentil and kale mixture into a large serving bowl. Pour on half of the dressing and toss to combine. Top with lettuce mixture. Drizzle remaining dressing over salad and garnish with parsley leaves and croutons. Felice Anno Nuovo!