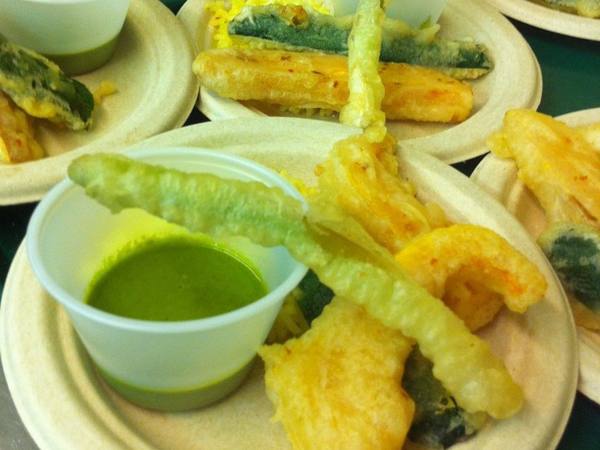 Summer Vegetable Tempura recipe from Down to Earth Organic and Natural
Ingredients
Vegetables
2½-3 pounds seasonal veggies of choice, washed and dried like summer squash, sweet potato, cauliflower, beets, turnips, broccoli, carrots, baby leeks, mushrooms
½ cup corn starch + more if needed
Batter
½ cup unbleached white flour
½ teaspoon + ⅛ teaspoon baking powder
¾ cup chilled sparkling water
2 teaspoons grape seed oil
¼ teaspoon salt
Dry chili flakes to taste
Frying Oil
3 cups sunflower or safflower oil for deep-frying
Instructions
Prepare Vegetables by cutting them into chunky shapes that follow their natural form. Cut round vegetables into wedges, long vegetables into spires and cauliflower or broccoli into medium florets.
Line a large plate with paper towels to drain fried vegetables. Set aside. On another plate, scatter corn starch to coat the vegetables.
In a large bowl, whisk together all the Batter ingredients until smooth.
Heat Frying Oil in a medium saucepan over high heat for just a few minutes. Once the oil is very hot, turn the heat down to medium. The vegetables should get a good sizzle but not burn.
Roll 4 or 5 pieces at a time lightly in corn starch. Dip in batter. Let any excess batter drip off before placing in the oil. As the pieces fry, turn them to brown evenly. Soft vegetables like summer squash and leeks take about 1 minute and firmer ones will take 2-3 minutes. When browned, remove from oil and transfer to paper towels on plate. Pat off excess oil.
Serve at once with your favorite dipping sauce, such as our Cardamom Infused Dipping Sauce. Enjoy!