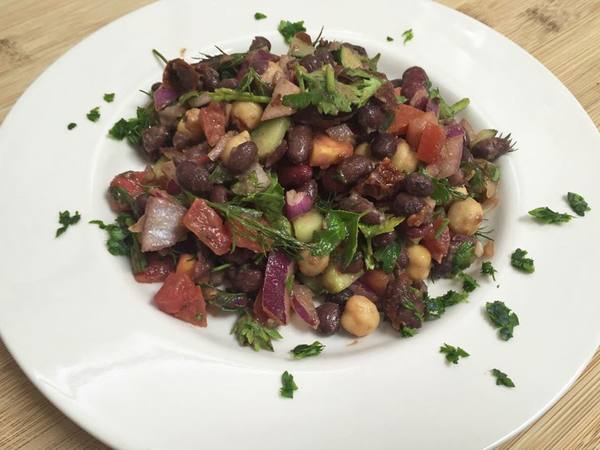 Lemon Parsley Bean Salad
This bright and filling salad is inspired by the traditional Lebanese salad, balela.
Updated: Mon, 05/13/2019 - 9:00pm
Ingredients
Bean Salad
1 can black beans (or 1 cup cooked)
1 can red kidney beans (or 1 cup cooked)
1 can chickpeas (or 1 cup cooked)
1 small red onion, diced
2 stalks celery, diced
1 red tomato, chopped
½ cup chopped sundried tomatoes
1 medium cucumber, deseeded and diced
1 jalapeno, seeded and finely diced
¾ cup chopped fresh parsley
2 Tablespoons chopped fresh dill or mint 
Dressing
¼ cup olive oil
1-2 lemons, juiced
3 cloves garlic, minced
3 Tablespoons red wine vinegar
¾ teaspoon sea salt
Pinch of red pepper flakes or cayenne
Instructions
Place all Bean Salad ingredients in a serving bowl.
In a mixing bowl, whisk together Dressing ingredients.
Pour Dressing over Bean Salad. Toss to combine.
Serve immediately or cover and let marinate in the refrigerator for a few hours. Enjoy!