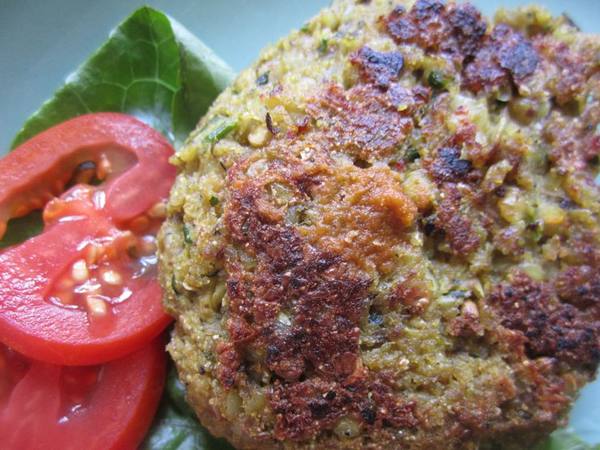 Curry Eggplant Burger
A veggie burger is a pretty simple formula - it just needs vegetables, spices and a binder. Here the binder is psyllium, but ground flax seed or chia seeds will also work fine. Optionally, cooked grains, legumes, potatoes and/or nuts can be added. There's plenty of room to play!
Yield:
9 burger patties. 2-3 servings.
Updated: Mon, 05/13/2019 - 9:10pm
Ingredients
2/3 cup buckwheat
1 large eggplant, peeled and cubed
3 scallions, trimmed and finely sliced
1-2 cloves garlic
1 teaspoon curry powder
1 teaspoon coriander seeds, toasted
Salt and pepper to taste
2 Tablespoons parsley, chopped
1/2 cup nutritional yeast
1 Tablespoon of psyllium
Instructions
Bring the buckwheat and 1.5 cups of water to the boil for ten minutes. Turn off and cover, allowing the buckwheat to continue steaming until cooked.
In another pan, fry or bake the eggplant until soft.
When both are cooked, blend all of the ingredients in a food processor, holding back half of the nutritional yeast.
Check the texture, adding the remaining nutritional yeast if neccesary to make the mixture firm enough.
Form into burger patties.
Fry or broil patties, five minutes a side in an oiled fry pan, or ten minutes a side under the broiler in the oven.
Serve with fixings as desired. Enjoy!