Butternut Squash Mac & Cheese Bites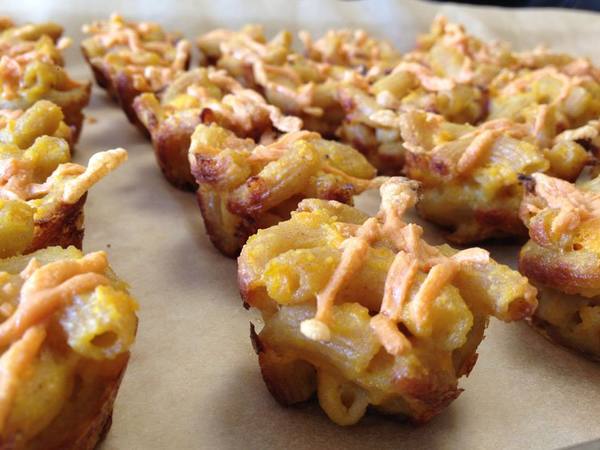 The perfect bites for any party!
Yield
24 Large Pieces or 48 Small Pieces
Ingredients
2 cups cubed butternut squash
8-ounce macaroni pasta
¼ cup vegan butter
¼ cup all-purpose flour
1 cup unsweetened plain non-dairy milk
½ cup nutritional yeast + more to taste
Salt and pepper, to taste
Shredded vegan mozzarella or cheddar cheese (optional)
Instructions
Steam cubed butternut squash until tender. Transfer to a large bowl and smash squash with a potato masher until soft.
Bring a large pot of water to a boil. Cook macaroni according to package directions.
Preheat oven to 425⁰. Spray either (2) mini cupcake pans or (2) regular cupcake pans with cooking spray. If you only have one, you may need to do it in 2 batches.
In another large pot, melt butter over medium low heat. Whisk in flour and whisk continuously for 1-2 minutes. Slowly add milk and whisk to remove lumps. Cook, stirring occasionally, until the mixture is quite thick and the lumps are gone. This can take anywhere from 2-5 minutes.
Stir in nutritional yeast, mashed squash, and macaroni. Season with salt and pepper.
Scoop butternut mixture evenly into prepared cupcake pans. Pack each one down gently – ensure that the pasta is sticking inside. Sprinkle more nutritional yeast or shredded cheese on top. Bake for 15-20 minutes until golden. Let cool for 10 minutes - use a butter knife to carefully loosen and pop out each bite. Transfer mac and cheese bites to a serving platter and serve immediately. Enjoy!