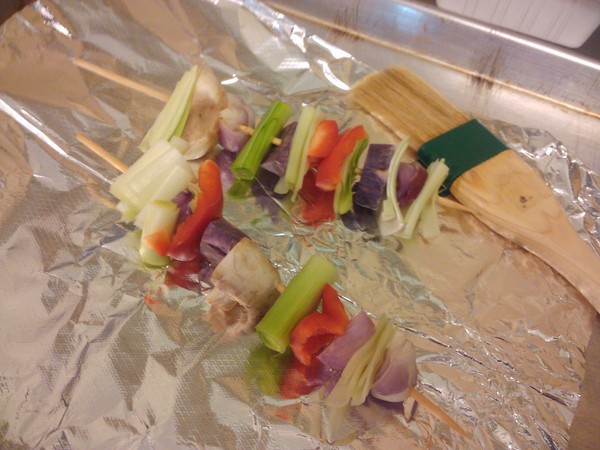 Baked Vegetable Yakitori
Delicious roasted vegetables on skewers make a fun and tidy party dish! Allow wooden or bamboo skewers to soak for at least 20 minutes in warm water to prevent them from burning.
Updated: Mon, 04/02/2018 - 9:59pm
Ingredients
¼ pound Okinawan sweet potato
1 leek
1 shallot
5-6 button mushrooms
1 bell pepper, any color
1½ cup mirin
¾ cup soy sauce, tamari or liquid aminos
4 Tablespoons brown sugar
2-3 garlic cloves, minced
¼ cup lemon juice
2-3 teaspoons sesame seeds
¼ cup chopped green onions

Recommended Materials: 10-12 wooden, bamboo or metal skewers
Instructions
Chop Okinawan sweet potatoes into bite-sized chunks and let sit in a bowl of water for 10 minutes to soften.
Line a large baking sheet with foil or parchment paper.
Cut remaining vegetables into small bite sized chunks.
Combine mirin, soy sauce, brown sugar, garlic and lemon juice in a small saucepan and heat over medium heat. Whisking frequently, allow mixture to reduce to about ½ of original measurement - about 1½ cups. Set aside.
While sauce is reducing, skewer vegetables in any desired order and place on baking sheet.
Set oven to broil.
Brush sauce over skewers. Broil vegetables for about 5 minutes. Remove from oven and turn skewers carefully and brush with sauce. Return to oven for another 5 minutes.
Remove from oven and allow to cool. Garnish with sesame seeds and green onions. Serve to your party guests immediately and enjoy!