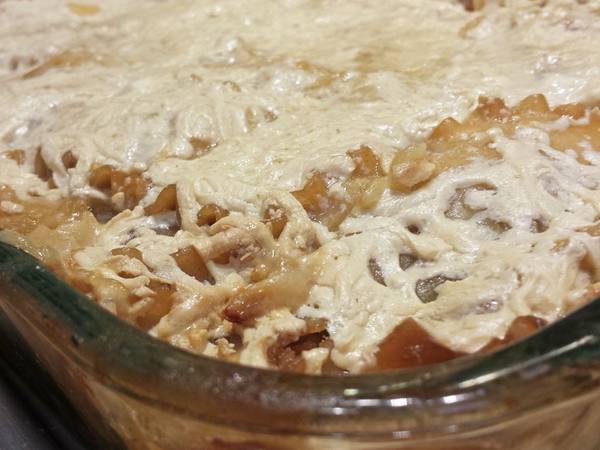 Gluten Free Vegan Lasagna in a White Sauce
Gluten Free Vegan Lasagna Recipe from Down to Earth Organic and Natural
Updated: Mon, 05/13/2019 - 8:59pm
Ingredients
2 packages GF Lasagna noodles, cooked according to package
3 Tablespoons safflower oil
1 cup diced onion
3 cloves crushed garlic
¼ cup gluten free four
3 cups unsweetened almond milk
¼ teaspoon salt and pepper
4 medium sweet potatoes, steamed thinly sliced.
6 cups spinach leaves
2 cups chopped sundried tomatoes
1 package vegan mozzarella cheese
Instructions
Heat oil in large saucepan on medium-high heat. Sauté onion and garlic until browned.
Whisk in flour and almond milk lower heat and continue to whisk until sauce thickens. Turn off heat.
In a 9x11 baking pan, place 3 Tablespoons of sauce on bottom of pan.
Place a layer of noodles on bottom, then cover noodles with half the spinach, then cover with half the sweet potatoes, and the same for the sundried tomatoes. Salt and pepper the layer to taste.
Add another layer of noodles and repeat the process of the layers. Finally add a last layer of noodles to be the top.
Pour the white sauce all over the lasagna, make sure it gets into the sides and is fully saturated.
Sprinkle the bag of vegan cheese over the top of the lasagna and cover with foil. Bake in oven for 45 minute, remove foil and broil top until golden brown.