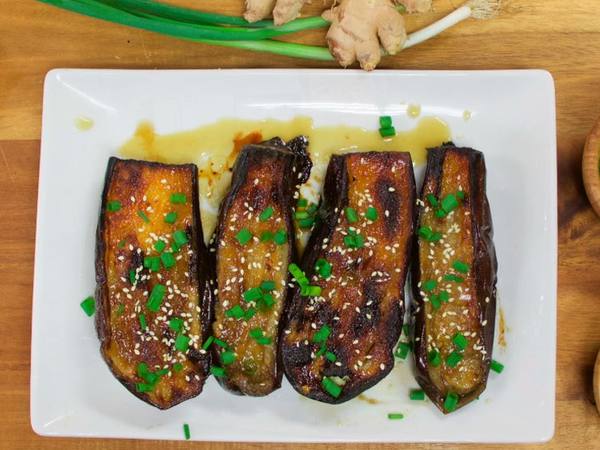 In this recipe caramelization is key to making this eggplant dish shine. Even those who don't care for eggplant will love this dish!
Ingredients
Glaze
2 Tablespoons mirin
2 Tablespoons white miso
2 Tablespoons maple syrup
¼ teaspoon grated ginger root
2 large eggplants
½ teaspoon olive oil
1 Tablespoon toasted sesame seeds
¼ cup chopped green onions, to garnish
Instructions
Set your oven broiler on high.
Combine Glaze ingredients in a small saucepan and simmer over medium heat for 2 minutes. Be sure to stir occasionally to avoid burning.
Cut eggplants in half. Brush olive oil liberally onto all sides of the eggplants.
Place eggplants onto a baking sheet cut-side down and broil for 15-20 minutes. The flesh should be easily penetrated by a fork.
Remove eggplants from the oven and turn them over. Brush Glaze over top of the eggplant.
Return eggplants to the oven and broil for 1-2 minutes.
Remove from oven and garnish with toasted sesame seeds and green onions. Enjoy!