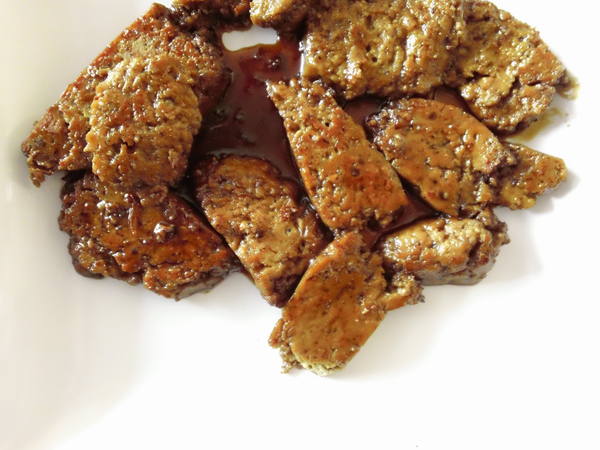 Mock Korean Chicken
Making homemade seitan is easy peasy. Dress it up to make a vegetarian version of local favorite, Mock Korean Chicken! For an even healthier version, bake floured mock chicken for 45 minutes at 375°. Turn mock chicken halfway through the process. They should be crispy and golden!
Updated: Mon, 05/13/2019 - 9:00pm
Ingredients
20 cups water
1 cup peanut butter
1 cup shoyu
Seitan

   3 Cups Vital Gluten Flour
   1 cup nutritional yeast
   1 teaspoon salt
   1 teaspoon pepper
   4 cups water
2 cups flour
½ cup nutritional yeast
Salt and pepper
1 cup Safflower oil

Sauce:

   ½ cup shoyu
   ¼ cup agave
   2-4 cloves garlic, chopped
   3 Tablespoons sesame oil
   2 Tablespoons grated ginger
   1 teaspoon red pepper chili flakes

½ cup chopped green onion
Instructions
Place water in large pot with peanut butter and shoyu. Bring to a slow boil.
In a large bowl, combine all dry seitan ingredients and mix well. Add water a little at a time, and form a large dough round. Pour off any excess liquid. Also, make sure there are no dry pocket in dough, massage dough to make sure.
 Place in boiling water and reduce heat to a medium simmer and cook for 1 hour.
Remove dough from water and let cool a bit. Using kitchen scissors, but small strips, a little larger than bite size.
In a separate bowl, place flour, nutritional yeast, salt and pepper.
Heat oil in large frying pan.
Coat each piece of seitan in the flour and place in hot oil. Let brown and then flip. Continue until all pieces are done.
Combine Sauce ingredients in a large separate bowl. Drop seitan into sauce and thoroughly coat. Place on platter and top with chopped green onions. serve and enjoy!