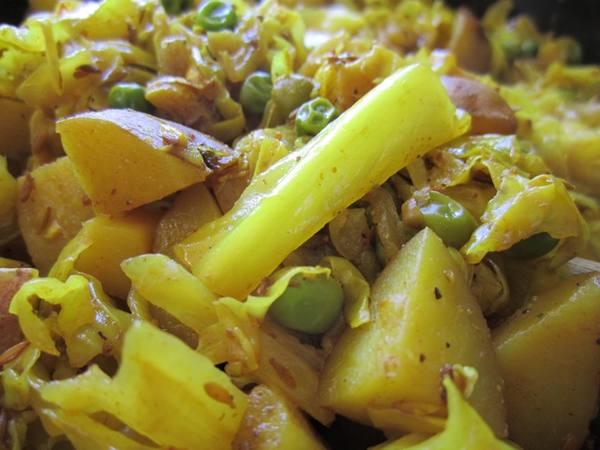 Punjabi-Style Cabbage
This delicious and simple dish can be made in a slow cooker as well as on the stovetop.
Updated: Mon, 05/13/2019 - 8:51pm
Ingredients
3 Tablespoons coconut oil
1 Tablespoon cumin seeds
1 teaspoon turmeric powder
1/2 onion – yellow or red – diced
1 piece of ginger root (1 inch long) peeled and minced
6 cloves of garlic, peeled and minced
4 small red potatoes, diced
1 medium green cabbage, sliced finely
1 cup frozen peas
1 chili – Thai, Serrano or Cayenne, chopped finely
1 teaspoon ground coriander
1 teaspoon ground cumin
1 teaspoon ground black pepper
1/2 teaspoon chili powder or cayenne
1 1/2 teaspoons salt
Instructions
Heat the oil in a large heavy pan, over a medium heat. Add the cumin and tumeric and cook until the seeds sizzle, about 30 seconds.
Add the onion, ginger and garlic and cook for two minutes, stirring to prevent sticking.
Add potato and cook until soft, about two minutes.
Add the cabbage, cook another 4 minutes, stirring to coat all the cabbage in the spices.
Add the peas, chili, coriander, cumin, black pepper, red chili powder and salt.
Turn the heat down low, cover and cook until the cabbage wilts, 8-10 minutes. Add a little water if it looks like the mixture may catch.
Serve! Great with roti bread. Enjoy!