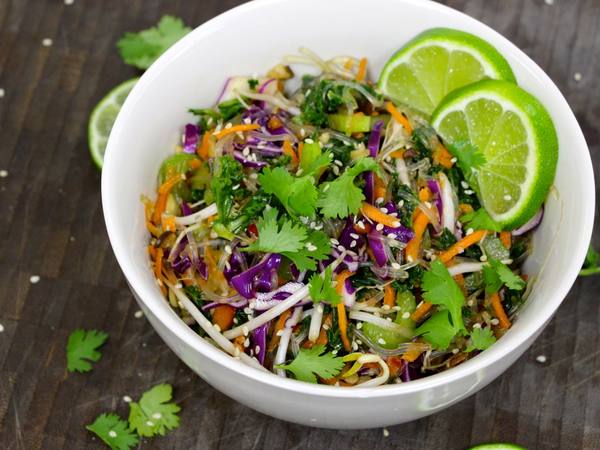 Raw Firecracker Pancit
Enjoy this colorful raw foods twist on a Filipino dish.
Updated: Mon, 05/13/2019 - 9:00pm
Ingredients
1 (12-oz) package kelp noodle
1 cup red cabbage, shredded
½ cup carrots, shredded
2 cups shredded kale
1 cup bean sprouts
1 cup celery, chopped
½ cup diced red pepper
1 cup diced shiitake mushroom​
Dressing
½ cup nama shoyu
¼ cup agave
2 limes, juiced
¼ cup sesame oil
1 teaspoon grated ginger
2 cloves garlic, pressed
Salt and pepper to taste
1-2 Tablespoons chili oil
Instructions
Soak kelp noodles in warm water for 1-2 hours to soften.
Drain noodles and cut into small pieces with a pair of kitchen scissors.
Add vegetables to cut kelp noodles.
In a small bowl, mix Dressing ingredients until well combined.
Pour Dressing over noodle mixture and toss to combine.
Serve immediately or let pancit marinate for a few hours to soak up flavors. Enjoy!