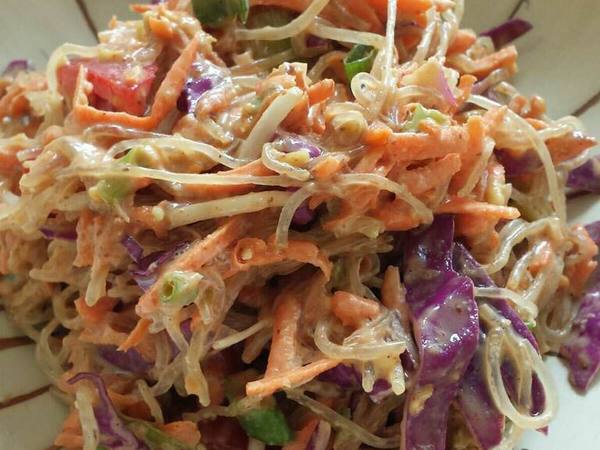 Raw Pad Thai
Raw Pad Thai recipe from Down to Earth Organic and Natural.
Updated: Mon, 05/13/2019 - 9:11pm
Ingredients
1 (12-ounce) package raw kelp noodles
2 cups bean sprouts
2 cups fresh cilantro, chopped
½ cup green onion, chopped
1 cup shredded carrots
½ cup red bell pepper, thinly sliced
Sauce:
1 teaspoon Nama Shoyu (raw soy sauce)
2 Tablespoons raw almond butter
3 Tablespoons Thai Chili Sauce*
2 Tablespoons concentrated tamarind
3 Tablespoons raw tahini
2 Tablespoons sesame oil
2 limes, juiced
Pinch cayenne
Salt and pepper, to taste
1 teaspoon chili powder
1 Tablespoon raw agave
½ teaspoon hot sauce of choice*
½ jalapeño, deseeded and finely diced
3 garlic cloves, finely diced
*Not Raw
Instructions
Wash and rinse kelp noodles and place in large mixing bowl.
Toss together vegetables and kelp noodles.
Place all sauce ingredients into a mixing bowl and whisk well.
Pour sauce over bowl ingredients and toss until well blended. Enjoy!