Vegan Garlic and Spirulina Shrimp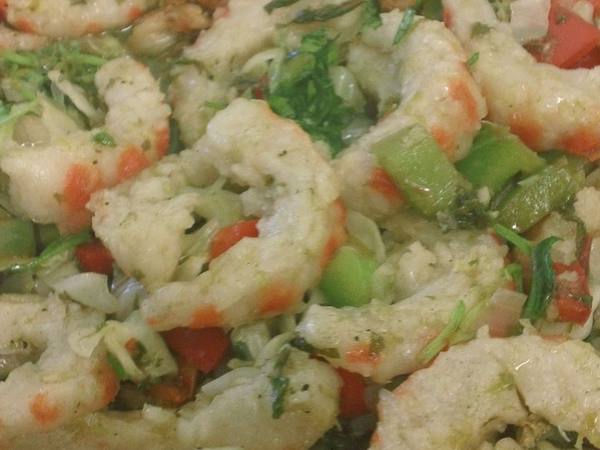 Spirulina is a blue-green algae that's packed with vitamins, protein and minerals! It's used in this vegan version of a local favorite to provide amazing nutrition and add an ocean-side flavor. Vegan shrimp is available in our frozen department.
Ingredients
3 Tablespoons olive oil
½ cup sliced garlic
¼ cup vegan butter
½ cup minced garlic
½ teaspoon Hawaiian sea salt + more to season
1 cup chopped local kale
1 cup chopped bell pepper
1 large shallot, chopped
2 teaspoons mirin
Juice of 1 lemon or 2 limes
1 (10.5-ounce) box frozen vegan shrimp, thawed
Zest of 1 lemon or 2 limes
1 teaspoon spirulina powder
1-2 pinches chili pepper (optional)
Black pepper to taste
2-3 Tablespoons diced fresh cilantro
Instructions
In a small pan over medium-low heat, combine olive oil and sliced garlic. Let simmer for 20 minutes, stirring frequently. When garlic is golden brown, carefully transfer to a plate lined with paper towels. Set aside to cool.
Heat vegan butter in a large skillet over medium heat. Add minced garlic and ½ teaspoon sea salt. Cook until butter is melted.
Stir in kale, bell peppers and shallots. Cook for 5-10 minutes or until vegetables soften.
Add mirin and lemon or lime juice. Cook and stir for about 1 minute.
Add vegan shrimp. Stir in zest, spirulina, chili pepper, sea salt and black pepper. Cook for 4-5 minutes, stirring frequently, or until vegan shrimp is easily pierced with a fork.
Garnish with fried sliced garlic and cilantro. Serve with lemon or lime wedges and enjoy!