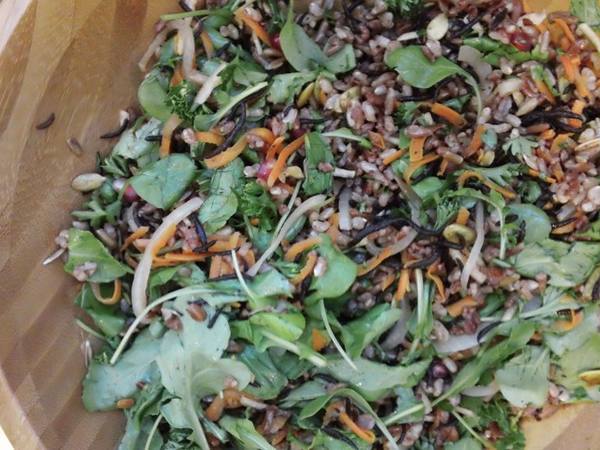 Simple brown and exotic red rice pair perfectly with spicy greens for a hearty snack or meal.
Ingredients
1 cup Wehani red rice, soaked 1 hour
½ cup short grain brown rice, soaked 1 hour
1" piece kombu seaweed (optional)
3 cups filtered water
½ cup apple juice + more if needed
1 cup thinly sliced red onion
1 cup shredded carrots
¼ cup hijiki seaweed, soaked 20 minutes and drained
4 cups arugula, spinach, and/or mixed greens
½ cup fresh chopped parsley
½ cup shredded apples
½ cup toasted sunflower seeds
Pomegranate arils, for garnish (optional)
Instructions
Rinse and drain rice. Add to a saucepan with kombu and cover with water. Cover, bring to a boil, lower heat and simmer for 30 minutes. Remove from heat, fluff, and set aside to cool. Remove kombu.
In a large skillet, heat apple juice over medium heat until hot. Add red onion and cook until soft, adding more apple juice if needed. Add carrots and drained hijiki and cook for 5 more minutes. Set aside to cool.
In a large bowl, toss cooled rice with onion mixture. Add in greens then toss in parsley, apples and sunflower seeds. Divide salad between serving bowls and garnish with pomegranate if desired. Enjoy!